SUPERMARKET SOFTWARE

BENIFITS
Supermarket Software will help streamline your business with various advanced features that will make your business processes more manageable

Know and verify various transactions accurately with the integration of supermarket ERP systems and company bank accounts.

Reduce human error by easily monitoring stocks in real-time to prevent products from expiring and dead-stocking.

Managing various branches of your business is more accessible, more efficient, and uninterrupted in one centralized system.

Improve customer retention and convenience by optimizing the sales process with online store integrations.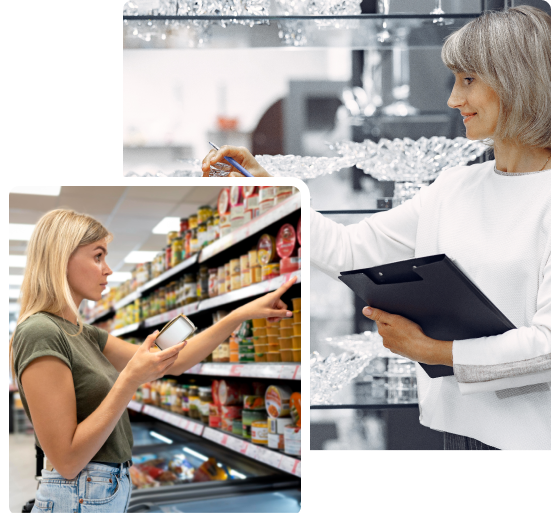 OUR INDUSTRY
EXPERTISE
Our wide range of services to fulfil your business needs

Automatic Price Update
Real time super market Pricing information. Find out the most up-to-date information on product prices based on the specials that are currently running.
Efficient SCM Process
Increase supply chain control and satisfy client demands. Never run out of goods in the warehouse with automatic reorders when the minimum threshold is reached

Price-List Update Integration
Make price changes based on the scales quickly. Simplify the calculation of the weight of goods and ensure that the goods are priced accurately.

Multi- Outlet Management
Manage all of the outlet with a one system. Monitor the progress of all your outlet sales from anywhere and anytime in one integrated system.

Automated Bank Integration
Solutions for easy payment methods. Pay easily using a variety of payment methods, and ensure transaction security with credit card verification.

HRM System for Supermarket
Supermarket salary, attendance, leave and overnight in one system. Simplify workforce management based on various indicators such as working hours and employee status.
Why choose
Terabits?
We help the most admired brands around the world in building digital solutions that
deliver amazing customer experiences through ERP solutions.
25+
Modules contributions in Odoo apps

Expertise with Credibility

No Hidden charges

Timeline Adherence

Quality with No Compromise

Support
WHAT IS
SUPERMARKET SOFTWARE?
Because it has branches in different areas, Supermarket Software is the ideal solution
for your challenges as a huge retail enterprise.

Use of Supermarket Software
By utilizing Supermarket ERP Software, you may receive notifications about sales, easily access sales progress from anywhere, manage products that are due to expire, have all sales systems controlled from headquarters, and enjoy various other benefits.

Role of Supermarket Software
You can use supermarket software to monitor, identify, plan, manage, and optimize your retail operation. With the Supermarket System, all elements of sales, including financial records, stock of goods, inventory management, and promotional activities, will be tracked

Work of Supermarket Software
Software Supermarket's activities include discovering prospective customers, closely monitoring sales activities, managing inventory and promotional programs using a centralized system, optimizing inventory and stock management in multiple locations, and automatically recording all transactions.
Our teams are here to help
We'll get back to you as soon as possible.